KMD and F. Adab Architects Inc. are proposing to rezone the property at 4310 Marine Drive for 12 compact townhomes that meets the housing needs of wide spectrum of West Vancouver residents.


This website provides information on the application we are preparing and seeks feedback that we will share with the District of West Vancouver's Planning Department.

The proposed development

This application responds to the new OCP by proposing 12 small affordable homes at 4310 Marine Drive in a "missing middle" townhouse format that City Council has identified as desirable and approvable.
These homes will meet the needs of:
· A greater range of family incomes;
· Empty nesters;
· Young families; and
· West Vancouver business professionals
Supporting District Planning Policy for Missing Middle Housing
The District of West Vancouver's research and studies have demonstrated that the dominant supply of large expensive homes are not meeting the needs of many seniors, young families, and empty nesters who need more compact, affordable housing choices. This is evidenced by the absolute decline in West Vancouver's population in the last Census period as many residents have had no option but to leave West Vancouver in search of housing that better addressed their needs.
The District of West Vancouver's Council recently approved new housing policy in the
Official Community Plan (OCP) to promote housing diversity, choice and affordability.
Section 2.1.4 of the District of West Vancouver's permits consideration of more compact forms of multi-family development along the Marine Drive transit corridor in proximity to neighbourhood hubs.
The subject site meets the location criteria., It is on the Marine Drive transit corridor and is 120 m from Cypress Park Primary School and only 20 m from the Park.
The Development team has a track record of design and development in the North shore and other municipalities in the Greater Vancouver.
Developer
KMD has close to 30 years of experience in residential developments and construction. They follow and implement energy conservation and sustainable development strategies using the most efficient structural, electrical, mechanical and building envelope systems.
Architect
F. ADAB Architects Inc. "FAA" has a long successful track record of working with communities and responding to public interests. FAA is one of Vancouver's leading architectural firms specializing in residential and mixed-use projects. FAA has designed over 100 projects in BC and Alberta.
The principal of FAA (Fred Adab) takes pride in working in the District of West Vancouver where he resides and his children have attended local schools.
Landscape Architect
Maruyama & Associates Landscape Architects is a well-known firm with extensive landscaping experience in urban design, sustainability and LEED design strategies. Among other projects, Rod Maruyama has been responsible for the master plan of Expo 86.
Apart from landscaping design, Rod has been involved in urban design, master planning, resource management and sustainable green design of many notable projects and developments in Canada.
Planning Consultant
Livable City Planning Ltd. is working with F. ADAB Architects Inc. to provide planning and design input for the development team. The principal of the firm Michael Mortensen is a highly qualified urban planner with over 20 years of experience in Canada and the UK. In 2011-2013, Michael led planning for Grosvenor's 1300 Marine Drive project which has transformed the Ambleside waterfront.

LEGAL DESCRIPTION :
LOT 'B', BLOCK 'B', DISTRICT LOT 582
GROUP 1, NEW WESTMINSTER DISTRICT PLAN BCP47996
CIVIC ADDRESS :
4310 MARINE DRIVE, WEST VANCOUVER, BC.
ZONING:
EXISTING: RS4
PROPOSED: CD
SITE AREA:
23438 SQ.FT (2177.4 SQM)
SITE COVERAGE:
PROPOSED: 41%
BUILDING HEIGHT:
PROPOSED: 3-STOREY
FLOOR AREA RATIO:
PROPOSED: 1.0
SET BACKS (AVERAGE)
NORTH : 19.6' WEST : 22'
SOUTH : 38'6" EAST : 20'
PARKING AND BIKE STALLS
PROPOSED BIKE STALLS: 34
PROPOSED PARKING STALLS: 22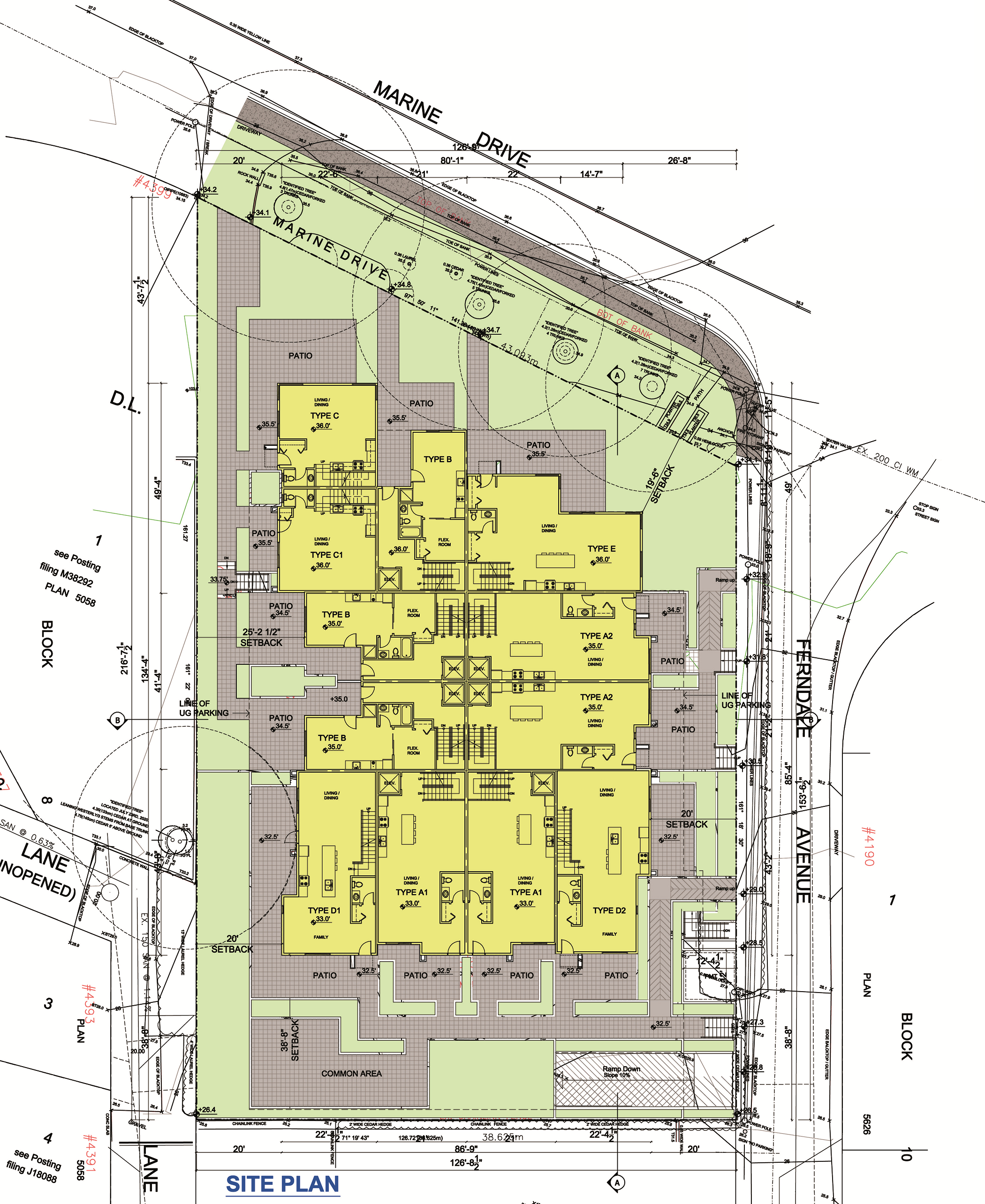 Parking plan First floor plan

Second Floor plan Third Floor plan
Massing Building Form and Charactre
How did we arrive at the form and size of the building?
The massing, density, height, and setbacks of the building design have been developed to respect the neighbouring properties.
The design reflects a blend of modern architecture with a West Coast character.
The appearance of a multiple development unit has been minimized and softened by stepping back the massing of the upper floors.
The building steps down from north to south following the natural topography of the site.
The exterior finishing material is comprised of natural wood and prefabricated cement boards.
Decorative wood trellises are incorporated into the design to further emphasis the modern west coast character.
View Impact Analysis and Privacy

The proposed building is designed to respect the relationship with adjacent properties. A green buffer has been introduced between the proposed development and the neighbours mitigating noise and overview.
The massing has been reduced to two storeys along the south property line to create privacy and a height transition to the adjacent single detached house.
Windows on the south and west elevations are minimized to respect privacy.
In terms of height, the view impact will be similar to a large single detached home with a coach house that would be allowed under existing zoning.
A 6'-0" high frosted privacy screen will be provided along the west side on the 2nd floor to eliminate overlook into neighbouring houses.
Exterior Finishes and Material
The selection of the exterior finishes is based on enhanced durability / longevity of the construction materials as part of a sustainable approach.

Use of wood and prefabricated panels with rich architectural articulation and contrast colours reflects the modernist west coast character

Vinyl windows are black on the outside and white inside have wood texture from outside and white colour inside.

Design development and Approval Process
Milestones:
1. Meeting with staff and formulating the design criteria.
2. Applicant incorporates staff comments.
3. City request for preapplication public engagement process and consultation with neighbours. (We are at this stage now )
4. Applicant will meet with staff and discusses outcome of the public open house process.
5. Proposal is referred to the Design Review Committee.
6. Staff refers the proposal to council for first reading. Council provides comments and sends the project to public hearing.
7. District issues public hearing notification.
8. Proposal is referred to council to receive 2nd and 3rd readings.
9. Architect and consultants prepare construction drawings.
10. Obtain building permit.
11. District issues building permit and construction starts.
12. Construction period will be between 16 to 18 months.
Sustainability, Energy Conservation and Green Measures
Environmental Sustainability
The site is located on a public transportation corridor and is close to schools, shopping facilities and ocean front.
The design and massing retains all existing trees along the property lines.
The project incorporates storm water management systems.
The majority of the units face two directions with windows that allow for daylighting and passive cross ventilation.
The project is designed to a higher standard of energy efficiency complying with the "Step 4 Energy Code" and the "ASHRAE 90, 1010 American Standard" with respect to mechanical systems, building envelope and glazing.
Electric Car Chargers are provided for all units
High efficiency water and energy efficient fixtures are specified.
Social Sustainability
The proposal offers a diverse mix of accommodation types suitable for different ages and income.
Two units are fully accessible for people living independently with disabilities.
The proposal offers small home and downsizing opportunities for those who do not want to leave West Vancouver and wish to stay where they have been living their entire life.
A common outdoor amenity area is provided which promotes social interaction.
The close proximity to the beach, neighbourhood shopping facilities and school provides opportunities for walking, recreation and outdoor activities.
Economic Sustainability
The project offers diverse range of accommodation for:
West Vancouver business professionals
The proposal allows a wider spectrum of people who work in West Vancouver to live in West Vancouver which helps to boost the local businesses, mitigates the declining local work force, and decreases commuting.
Click on the link to View


OCP Development and Housing Objectives
Community Context and Key Trends West Vancouver is shaped by the mountains, forests and coasts that define our sense of place. Our cultural and social assets, recreational opportunities, local businesses, transportation infrastructure, neighbourhoods and town and village centres define our community within this natural setting. Considered together, these features create the quality of life that is cherished and that we look to protect. However, no community is static, and many changes are occurring in West Vancouver, with challenges that extend to the region and beyond. Some key trends are highlighted below. Long-term planning is an essential tool to ensure that we protect what is valued while continuing to thrive into the future. Aging population and loss of young families In 2016, West Vancouver was home to approximately 42,500 people (2016 Census). While our community growth rate has fluctuated over time, it has remained relatively low in comparison to the region. This slower growth is related to our aging population, as the community has fewer births and our housing stock has limited options for seniors to downsize or for young families to move here. The following chart illustrates our historical and projected growth.
A handful of key factors define our population today:
More than one in four residents (28%) is over the age of 65, 27% of whom are living alone;
7% of our population are empty nesters between the ages of 55 and 64;
Younger families with children and parents between 35 to 54 account for 14% of the population, down from 21% in 2011;
There is a "missing generation" of younger adults without children between the ages of 25 and 34, accounting for only 2% of the population;
The share of children under the age of 14 has fallen from 30% of the population in 1961 to 14% in 2016;
The average household size is declining and is lower than the regional average; and West Vancouver is the only municipality in the region with a declining population, losing 0.5% between 2011 and 2016 while the region grew by 6.5%.
Within two generations, West Vancouver's demographic profile has shifted from a population of younger families with children, to a more distributed demographic, to the community of today that is primarily older residents. While this trajectory is not new, the result is increasingly pronounced if we consider the life of this plan. By 2041, half of our population will be over 55 years old, and one in three residents will be over the age of 65. The diagram below depicts what our community's demographic profile has been projected to look like in 2041.
Housing affordability and diversity Housing affordability is a principal challenge across Metro Vancouver. Within this context, West Vancouver has the highest average housing costs for both homeowners and tenants. The median household income in our community—the highest in the region—is only half that required to finance the average apartment and roughly one-sixth that required to finance the average single-family home. With the region's lowest rental vacancy rate (0.4% in 2017)2 it is difficult to find rental accommodation in West Vancouver. This constrained supply results in higher overall rental costs than in other Metro Vancouver municipalities. These issues are exacerbated by the limited housing diversity in our community. Nearly two-thirds of our housing stock is single-family dwellings, with apartment options mostly limited to aging buildings constructed in the 1960s and 1970s. The result is that there are not enough options for seniors to downsize, adult children to stay close to their families, or young families to move into West Vancouver. Put simply, the housing choices presented to people today are increasingly expensive single-family homes or increasingly aging apartment buildings
Key OCP actions As a land use planning document, an OCP is legislatively required to guide housing development throughout a community. To address the needs of the present and future generations in our community, this OCP seeks to:
Regenerate our primarily detached, single-family home oriented neighbourhoods with sensitive infill options, such as smaller houses on smaller lots, coach houses and duplexes;
Expand "missing middle" housing options, like triplex, townhouse and mixed-use, in locations close to transit, shops, and amenities;
Respect our neighbourhood character and encourage long-term protection of valued heritage properties with stronger incentives;
Strengthen our centres and key corridors through local area plans, with separate, detailed and collaborative planning processes to determine area-specific visions, objectives and suitable built-form, heights and densities;
Advance housing affordability, accessibility and sustainability through available policy levers.
Together, these combined OCP actions seek to fill missing gaps for housing and housing choices in existing neighbourhoods and centres, and to provide for more and ongoing seniors and rental housing options.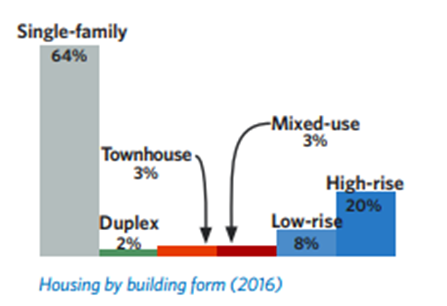 AHOUSING & NEIGHBOURHOODS
2.1 Existing Neighbourhoods West Vancouver is a scenic oceanfront community of individual, unique neighbourhoods situated in a narrow band of development between the water and the mountains. From the cottages and cabins of the early 1900s, West Vancouver neighbourhoods have been shaped by their distinct natural landscapes and through their history of development and land use decisions. As a result of these past development patterns, West Vancouver is now comprised of mostly detached, single-family oriented housing, and some generally older apartment buildings located in and near commercial centres, with very limited availability of other housing forms such as duplex, triplex, and townhomes located in pockets throughout the municipality.
Emerging issues to address
While our housing options continue to be limited, there has been a long-standing community interest in increasing the variety of available housing options. Seniors and young families alike are unable to find the right housing to meet their needs—such as accessible, single-level living options close to amenities and transit, and smaller, relatively more attainable options near schools. These and other key trends in our community demand actions to address our current and long-term needs.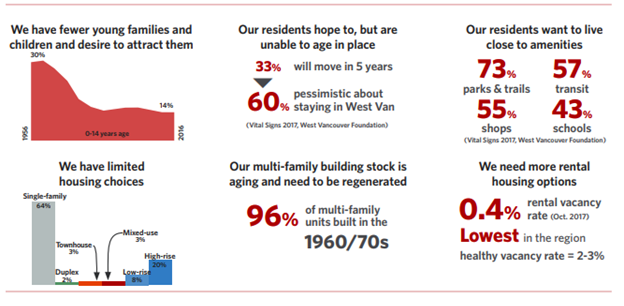 Expanding missing middle (e.g., triplex, townhouse, mixed-use) options with an estimated 300- 350 new units
Increase "missing middle" housing options with ground-oriented multi-family on appropriate sites along the Marine Drive Transit Corridor by:
Considering proposals for sites adjacent to and across the road from "neighbourhood hubs" such as schools, places of worship, parks, recreational facilities, local commercial nodes, and existing multi-family uses;
Reviewing designs in relation to site characteristics (e.g., site area, configuration, access) and compatibility with neighbourhood context
Considering a range of housing types including duplexes, triplexes, fourplexes, rowhouses, and townhouses to a maximum of three storeys.
Consider proposals within neighbourhoods for site-specific zoning changes that are not otherwise supported by policies in this plan only in limited circumstances by:

Reporting to Council after preliminary application review to allow an early opportunity for public input;
Considering sites or assemblies that present a degree of physical separation from adjoining single-family dwellings (e.g., adjacent to a green belt, grade change, park, school, or existing multi-family site);
Requiring demonstration of minimal impact to access, traffic, parking and public views in the neighbourhood;
Restricting to one or more of a range of low-rise housing types including duplexes, triplexes, rowhouses, townhouses, seniors, rental and
apartment buildings to a maximum of three storeys;
Reviewing form and character to support siting and designs that respond and contribute to neighbourhood context and character; and
Ensuring information meetings with public notification prior to formal Council consideration in accordance with District procedures